Sanoprost™ TR contains standardized extracts: Saw palmetto (Serenoa repens) berry extract (8:1), Stinging nettle (Urtica Dioica) root extract (0.8 % beta-sitosterol), Pygeum (Prunus Africana) bark extract (25% total sterols).

The product has been manufactured using high quality pure raw materials and the technology that ensures all their beneficial properties intact, in strict compliance with GMP and TÜV regulations.
The unique product from Santegra® - Sanoprost™ TR is designed for men - to maintain their health and well-being.

Prostate gland grows larger as men age, a condition known as Benign Prostatic Hyperplasia (BPH). Prostate gland encircles male urethra, and enlargement in prostate gland blocks urinary passage, causing BPH symptoms including difficulty in starting the urine flow, bedtime and frequent urination, decreased urine stream, the size and strength of the urine stream may decrease. These symptoms can make your life intolerable.

BPH affects some 10 million men in the US each year. At least 50% of men after the age of 50 have some signs of BPH. Almost 90% of men aged 70-80 or older suffer from BPH and many of them resort to surgery.
BPH is an age-related non-malignant enlargement of the prostate gland due to increased numbers of cells triggered to grow in the prostate.

Sanoprost™ TR formula is a combination of traditional herbal medicine and state-of-the-art technology, it contains standardized extracts of well-known herbs from different parts of the world: Saw Palmetto, Pygeum and Stinging Nettle, traditionally used to keep male urogenital system healthy.

Saw Palmetto (Serenoa repens) has been known and used by men for centuries to increase sexual vigor, to improve sperm production, and to prevent hair loss.
It has been considered useful as a urinary antiseptic and diuretic, but its most effective use is to relieve symptoms of benign prostatic hyperplasia.
The extract comes from the berries of the dwarf palm tree Saw palmetto.
Saw palmetto contains phytosterols, substances that curb prostate cell growth. Many studies suggest that saw palmetto extract can shrink the enlarged prostate gland and improve urinary symptoms.

Sanoprost™ TR contains 160 mg of Saw Palmetto standardized extract (8:1) per capsule, with the recommended daily dose of 320 mg (2 capsules daily). Numerous trials proved this amount to be the most effective daily dosage.

While saw palmetto extract is the far better known herbal medication to reduce the size of an enlarged prostate, Pygeum (Prunus Africana) bark extract may in many cases be as effective. Pygeum, also known as African plum grows in the high plateaus of South Africa. Pygeum has been approved for treating mild to moderate BPH in Europe since the early 1970s. The bark appears to work by reducing inflammation, promoting urination, and ridding the prostate of cholesterol deposits that can occur with BPH.

Each Sanoprost™ TR capsule contains the most effective dosage of Pygeum bark standardized extract (25% total sterols) - 50 mg per capsule and 100 mg as a recommended daily dosage.

Stinging Nettles (Urtica Dioica) have been used in folk medicine for ages. Many remarkable healing properties are attributed to Stinging Nettle. The leaf is traditionally used as a diuretic, for arthritis, prostatitis, rheumatism, rheumatoid arthritis, high blood pressure and allergic rhinitis. The root is recommended as a diuretic, for relief of BPH symptoms and other prostate problems.

Sanoprost™ TR contains 120 mg of standardized Stinging Nettle extract (0.8 % beta-sitosterol) per capsule or 240 mg as a recommended daily dosage.

Herbal medicines containing beta-sitosterol help to relieve the urinary symptoms and urinary flow problems caused by an enlarged prostate gland (benign prostatic hyperplasia)
Per one capsule:

Saw palmetto (Serenoa repens) berry extract (8:1) – 160 mg; Stinging nettle (Urtica Dioica) root extract (0.8 % beta-sitosterol) - 120 mg; Pygeum (Prunus Africana) bark extract (25% total sterols) - 50 mg.
Packaging size: 60 capsules.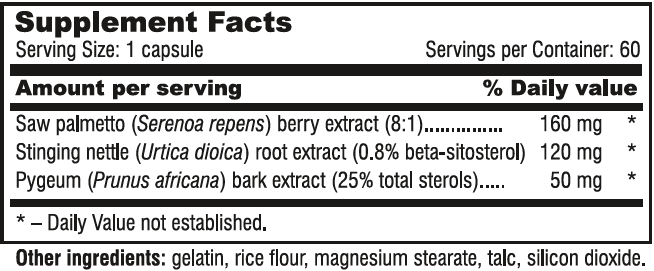 As a dietary supplement take 1 capsule with a large glass of water twice a day.
Contraindication
Individual intolerance.

Saw Palmetto promotes prostate health by decreasing the metabolism and action of male steroids. Saw Palmetto has been demonstrated to decrease the activity of 5-alpha reductase which stimulates the conversion of testosterone to dihydrotestosterone (DHT), its more active form. (6)

Since DHT is necessary for excessive growth (hyperplasia) of the prostate and is elevated in men with BPH, inhibition of 5-alpha reductase, and therefore DHT production, may alleviate BPH and associated compression of the urethra (the tube that runs through the prostate gland to carry urine from the bladder).

Additionally, studies have shown that Saw Palmetto helps to inhibit the production of various inflammatory factors, thus serving to decrease overall prostate inflammation.

Clinical studies have used a dosage of 160 mg twice daily or 320 mg once daily of a lipophilic extract of Saw Palmetto. A daily dosage of 480 mg was not found to be any more effective in a six-month study of dosages.

Animal studies indicate that partial outlet obstruction to the bladder may lead to bladder contractile problems. In rabbit study, BPH-like symptoms were prevented by pre-treatment with Pygeum extract.

Men with mild to moderate BPH take 50-100 mg two times per day. A double-blind trial found that 100 mg once daily was as effective as 50 mg twice per day.

The root of stinging nettle contains sterols, scopolectin, fatty acids, polysaccharides and isolectins. Several of nettle's chemicals have demonstrated marked antiviral actions. Other chemicals (flavonoids in the leaves and a lectin in the root) have been documented with interesting immune stimulant actions in preliminary research.

The last area of research on nettle focuses on its usefulness for prostate inflammation (prostatitis) and benign prostate hyperplasia (BPH). In more than 20 clinical studies thus far, nettle root (and nettle combined with other herbs) has demonstrated an improvement of clinical symptoms in BPH and prostatitis. While nettle's benefit for prostatitis is related to its documented anti-inflammatory properties demonstrated in the arthritis and rhinitis research, the effect of nettle on BPH is different—it works on a hormonal level.

Some of the more recent research on BPH and nettles indicates that nettle can interfere with or block a number of hormone-related chemical processes in the body that are implicated in the development of BPH. In clinical research, nettles have demonstrated the ability to stop the conversion of testosterone to dihydrotestosterone (by inhibiting an enzyme required for the conversion).

Sanoprost™ TR contains standardized stinging nettle extract (0.8% beta-sitosterol).

Herbal medicines containing beta-sitosterol may help to relieve the urinary symptoms and urinary flow problems caused by an enlarged prostate gland.

Multiple randomized studies have confirmed the efficacy of beta-sitosterol in alleviating the types of prostate discomfort that aging men so frequently encounter.

This is great news for men suffering from BPH (and there are millions)! Human and animal studies have confirmed these effects and benefits.
In the large study, European researchers gave either saw palmetto or the prescription drug Proscar to more than 1,000 men for six months. Both proved equally effective in relieving — but not eliminating — the symptoms of BPH. (1)

The clinical effectiveness of saw palmetto has been shown in trials lasting from six months to three years. A three-year trial in Germany found that taking 160 mg of Saw Palmetto extract twice daily reduced nighttime urination in 73% of patients and improved urinary flow rates significantly. (2)

In another 12-weeks study on 1334 patients taking saw palmetto extract, 80% of the patients reported the results as good or excellent.

One more trial with 40 men suffering from BPH, during the course of the trial they took saw palmetto extract for 60 days and demonstrated the following results: 25% reported good results, but 75% reported excellent results and decrease in BPH symptoms.

The clinical trial was conducted in Europe on 85 men between the age of 50 and 75, with mild BPH symptoms. After 2 months of treatment with pygeum extract the following results were reported: 32% of participants confirmed the decrease in nocturnal urination frequency, 31% - the improvement in the quality of life. Overall before the treatment with pygeum 2/3 of men experienced the need for 3 or more urinations during the night. After the treatment the need for bedtime urination came down to 1, and in some cases disappeared completely. These improvements continued even after the treatment with pygeum had been stopped. Some patients admitted the increase in sexual activity. (3)

The 134 patients (aged 53 to 84 years) with symptoms of benign prostatic hyperplasia were drawn from two medical centers in Warsaw. The patients were randomly assigned to receive two capsules of the standard dose of an urtica/pygeum preparation (300 mg of Urtica dioica root extract combined with 25 mg of Pygeum africanum bark extract) or two capsules containing half the standard dose twice daily for 8 weeks. After 28 days' treatment, urine flow, residual urine, and nycturia were significantly reduced in both treatment groups. After 56 days' treatment, further significant decreases were found in residual urine (half-dose group) and in nycturia (both groups). There were no between-group differences in these measures of efficacy. It is concluded that half doses of the urtica/pygeum extract are as safe and effective as the recommended full doses. (4)

Randomized, multicentre, double-blind clinical trial was conducted on 543 patients with the early stages of BPH, they were treated with the combination of stinging nettle root extract and saw palmetto extract (PRO 160/120) or the synthetic 5alpha-reductase inhibitor finasteride. The results of the original trial showed equivalent efficacy for both treatments. The average urine volume during urination increased, the frequency decreased, and other BPH symptoms also decreased. The present analysis showed that the efficacy of both the combination of stinging nettle root extract and saw palmetto extract (160/120) and finasteride was equivalent and unrelated to prostate volume. However, the combination of stinging nettle root extract and saw palmetto extract had better tolerability than finasteride. (5)

A review of 4 studies of beta-sitosterol in the treatment of benign prostate enlargement was conducted. The researchers identified randomized, placebo-controlled, double-blind trials involving a total of 519 men. In these studies, beta-sitosterol improved urinary symptom scores and urinary flow rates, and significantly reduced the volume of residual urine in the bladder. The magnitude of reduction in prostate symptoms and improvement in urinary flow rates is a strong incentive for the use of beta-sitosterol, either alone or in combination with standard pharmacologic interventions. (7)

A 6-month, double-blind, placebo-controlled, randomized, partial crossover, comparative trial of Urtica dioica with placebo in 620 patients was conducted.
558 patients (90%) completed the study. At the end of 6-month trial, 232 (81%) of 287 patients in the Urtica dioica group reported improved LUTS compared with 43 (16%) of 271 patients in the placebo group (P < 0.001). Both IPSS and Qmax showed greater improvement with drug than with placebo. The IPSS went from 19.8 down to 11.8 with Urtica dioica and from 19.2 to 17.7 with placebo (P = 0.002). Peak flow rates improved by 3.4 mL/s for placebo recipients and by 8.2 mL/s for treated patients (P < 0.05). In Urtica dioica group, PVR decreased from an initial value of 73 to 36 mL (P < 0.05). No side effects were identified in either group.

CONCLUSION: Urtica dioica has beneficial effects in the treatment of symptomatic BPH. (8)
1. Prostate 29: 231-240 (1996)

2. Bach D, Ebeling L. Long-term drug treatment of benign prostatic hyperplasia-results of a prospective 3-year multicenter study using Sabal extract IDS 89. Phytomedicine 1996;3:105-11.

3. Breza J, Dzurny O, Borowka A, et al. Efficacy and acceptability of Tadenan (Pygeum africanum extract) in the treatment of benign prostatic hyperplasia (BPH): a multicentre trial in central Europe. Curr Med Res Opin 1998;14:127-139.

4. Krzeski T, Kazón M, Borkowski A, Witeska A, Kuczera J. Combined extracts of Urtica dioica and Pygeum africanum in the treatment of benign prostatic hyperplasia: double-blind comparison of two doses. Clin Ther. 1993 Nov-Dec;15(6):1011-20.

5. Sökeland J. Combined sabal and urtica extract compared with finasteride in men with benign prostatic hyperplasia: analysis of prostate volume and therapeutic outcome. BJU Int. 2000 Sep;86(4):439-42.

6. Di Silverio F, Monti S, Sciarra A, et al. Effects of long-term treatment with Serenoa repens (Permixon®) on the concentrations and regional distribution of androgens and epidermal growth factor in benign prostatic hyperplasia. Prostate 1998; 37:77-83.

7. Wilt T, Ishani A, MacDonald R, Stark G, Mulrow C, Lau J. Beta-sitosterols for benign prostatic hyperplasia. Cochrane Database Syst Rev. 2000;(2):CD001043.

8. Safarinejad MR1.Urtica dioica for treatment of benign prostatic hyperplasia: a prospective, randomized, double-blind, placebo-controlled, crossover study. J Herb Pharmacother. 2005;5(4):1-11.