Contains a broad spectrum of vitamins and minerals. The combination of the unique old recipes with the latest achievements of nutritional science, it has been manufactured using high quality pure raw materials and the technology that ensures all their beneficial properties intact, in strict compliance with GMP and TÜV regulations.
Black Walnut contains black walnut (Juglans nigra L.) hulls.

Herbalists have traditionally used black walnut as a nutritional aid for the intestinal system; it is considered a powerful remedy for expelling worms and parasites from the body, and for treatment of different skin conditions.

Black walnut is a rich source of organic iodine, fluoride, iron, potassium, vitamins A and C, B-group vitamins, tannins, proteins, bioflavonoids.
A wide range of potent ingredients makes this product extremely beneficial to our health in many ways.

The main active ingredient of Black walnut is juglone, a phenolic compound that has antibacterial, antiviral, antiparasitic, and fungicide properties.
Due to these properties, black walnut is used as a natural remedy against worms and parasites. It is recommended to use Black walnut twice a year for the prevention of parasitic infections.
Because of the antioxidant capacities of phenolic compounds, juglone may serve to combat oxidative stress. (1, 2)

Black walnut contains tannins - compounds with antioxidant, anti-inflammatory, antibacterial, and astringent properties. (3)
Black Walnut stimulates healing processes, is useful for different skin conditions.

Black Walnut is beneficial for the gastrointestinal tract, it improves appetite and digestion, restores and maintains regularity, effectively helps with diarrhea.

Natural fluoride in Black Walnut helps to strengthen teeth.

Black Walnut contains iodine that helps to support thyroid gland, and to promote healthy endocrine system function.

The unique combination of vitamins and nutrients makes Black Walnut a useful natural supplement for prevention of avitaminosis.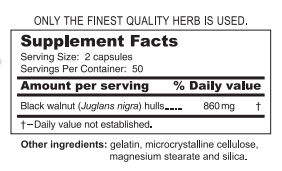 As a dietary supplement take 2 capsules 3 times daily with a big glass of water with meals  for one month.


Contraindication

Individual intolerance, hyperthyroidism, thyrotoxicosis.
1. Корочинский А.B., Дайронас Ж.В., Верниковский В.В., Зилфикаров И.Н., Степанова Э.Ф., Черников М.В. Актуальные аспекты медицинского применения ореха черного – Juglans nigra L. (обзор). Разработка и регистрация лекарственных средств. 2019;8(3):21-28. https://doi.org/10.33380/2305-2066-2019-8-3-21-28

2. Vardhini SR. Exploring the antiviral activity of juglone by computational method. J Recept Signal Transduct Res. 2014 Dec;34(6):456-7. doi: 10.3109/10799893.2014.917325. Epub 2014 May 20.

3. Chung KT, Wong TY, Wei CI, Huang YW, Lin Y. Tannins and human health: a review. Crit Rev Food Sci Nutr. 1998 Aug;38(6):421-64.