Contains SILIPHOS® - patented natural hepatoprotector, lipophilic complex of silybin and phosphatidylcholine; does not cause adverse reaction.  It is recognized as the most bioavailable form of silybin known today.

The product has been manufactured using high quality pure raw materials and the technology that ensures all their beneficial properties intact, in strict compliance with GMP and TÜV regulations.

The exclusive Santegra®'s product – LiverPro™ is a powerful natural formula for liver health.

The liver is the largest and one of the most complex organs in the human body. It plays a central role in nearly all body functions. Your liver is the first line of defense, the key organ in the body's detoxification system, the powerful filter, which cleanses blood by filtering out the toxins that assault the body on a regular basis. The liver filters over a liter of blood each minute!

The liver, due to the vital role it plays in metabolism, is particularly exposed to the harmful action of toxins. Many potentially harmful substances, such as alcohol, drugs and other toxins are metabolized by the liver and transformed into hydro-soluble derivatives for subsequent biliary extraction and removal from the body. For this reason, the upkeep of the integrity of the liver cells is necessary for the safeguarding of your health. Free radicals are very dangerous for the liver, because they are involved in several biochemical reactions, which constitute a continuous risk factor for the integrity of the hepatocytes. (1)

Therefore, any prevention aimed at reducing potential damage to the liver and any substances contributing to its integrity are important.

Fortunately, you can take steps to protect your liver:

Reduce your exposure to toxins, especially alcohol, fried, processed and junk foods;
Try to avoid overeating, because it increases your liver's workload.

The unique LiverPro™ formula will help you normalize and maintain liver functions.

Milk thistle (Silybum marianum (L.) Gaertn.) has been traditionally used for liver protection in Europe for centuries.

Milk Thistle standardized extract (silymarin) is the most commonly used hepatoprotector of herbal origin.  
The name Silybum derives from "sillybon" (tuft, pendant), an ancient Greek word used to indicate a thistle with white spotted leaves. An old legend tells that these white marks and stripes on the leaves represent the drops of Mary's milk fallen from her breast while she was breastfeeding Jesus during their escape to Egypt. (2)

During the Middle Ages milk thistle was cultivated in monasteries and used for medicinal purposes: the roots and leaves were recommended for swelling and erysipelas (St. Hildegard from Bingen, 1098-1179) or for the treatment of liver complaints (Lonicerus, John Gerard, Pietro Andrea Mattioli, XVI-XVII centuries). From 1755 onwards, Silybum marianum fruit were used for the treatment of liver disease, disorders of the bile duct and spleen. (3)

At present, the standardized extract (silymarin) obtained from the fruit of milk thistle is the most commonly used hepatoprotector of herbal origin.

Numerous studies have shown that silymarin prevents toxins from entering the liver, soothes inflammation and helps prevent liver cell destruction. It may also assist the production of new liver cells and can be a valuable support to a liver that has been damaged by alcohol or exposure to environmental toxins.

As an antioxidant, silymarin is more potent than vitamins C and E, supporting the liver's ability to maintain normal liver function by preventing free radical damage.
It has demonstrated a protective effect on the liver following exposure to environmental toxins (such as cigarette smoke, pesticides, and industrial cleaners).

Milk thistle is practically devoid of side effects.

Silymarin has tremendous effect in treating cap mushroom (Amanita phalloides) poisoning.  Ingesting this deadly mushroom, which contains two potent hepatotoxins - amanitin and phalloidin, can destroy the liver and often is lethal. Administration of silybin even within 48 hours after mushroom intake is an effective measure to prevent severe liver damage in Amanita phalloides poisoning.
Silymarin is the only known antidote for death cap mushroom poisoning.

Silymarin contains active ingredients - silybin, silydianin and silychristin.

The main constituent silybin has been subjected to several biochemical and pharmacological studies which have demonstrated its benefits for treating different liver conditions but also its poor bioavailability.

The source of bioflavonoid silybin in LiverPro™ is SILIPHOS® - patented lipophilic complex of silybin (33%) and phosphatidylcholine (US Patent # 4,764,508).  It is recognized as the most bioavailable form of silybin known today.
 
The silybin-phosphatidylcholine complex SILIPHOS®, containing 33% of silybin, endowed with antioxidant activity and, simultaneously, able to prevent cellular derangement by stabilizing the cell membranes and restoring the normal ultrastructure of the hepatocytes, plays a key role in the prevention of liver damage.

Due to its ability to prevent liver damage of different etiology, SILIPHOS® provides natural protection for hepatocytes.

SILIPHOS® can be used in any situation when oxidative stress can damage the hepatocellular functionality (alcohol, drugs, cellular aging, diet unbalance, etc.)

SILIPHOS® promotes liver recovery after overeating, alcohol, and drug use. It is effective for strengthening and protection after infectious diseases. SILIPHOS®   is a strong defense against different toxic substances, and ageing process.

The recommended dosage is 240 mg of silybin from SILIPHOS® a day. (6)
Every LiverPro™ capsule contains 120 mg of SILIPHOS® (with 40 mg of silybin), the recommended daily intake (3 capsules twice daily) complies with the recommendations.

Take 3 capsules twice daily with a large glass of water with food as a dietary supplement.
 
Contraindication
Individual intolerance. Not intended for children.
As demonstrated by pharmacokinetic studies in comparison with free silybin and silymarin, SILIPHOS® represents the most absorbable form of silybin known until now.
After oral administration of 200 mg/kg of silybin, the plasma levels of this drug and its conjugated metabolites were below the analytical detection limit, while, after oral administration of SILIPHOS® (200 mg/kg as silybin) the plasma levels of silybin (free and total) were easily measurable (Fig. 2) (animal studies).

After oral administration of SILIPHOS®, the biliary elimination of silybin was not complete at 24 h and accounted for about 3.7% of the administered dose.  After administration of uncomplexed silybin, biliary elimination accounted for only 0.001%. (Fig. 3).

The compound was rapidly excreted in urine where at 72 h the amount recovered accounted for about 3.3%. After administration of uncomplexed silybin, urinary elimination accounted for only 0.032%. (Fig.4). (4)

SILIPHOS® shows the same pharmacokinetic profile in human. After oral treatment, the bioavailability in healthy volunteers, in cholecystectomised patients or in patients suffering from hepatic cirrhosis is comparable to that demonstrated in animal models. (Fig. 2, 3, 4). (11, 12, 14)

SILIPHOS® demonstrated a superior bioavailability which, as calculated for cumulative biliary excretion, resulted to be about 10-fold higher than that of the extract. (5)

The improvement of the oral bioavailability for SILIPHOS® is mainly dependent on a marked increase of its absorption in the gastrointestinal tract, most likely due to the lipophilic character of the complex.

SILIPHOS® is to be considered a natural vehicle of silybin, the active botanical ingredient.
SILIPHOS® allows silybin to reach the target organ, the liver, in concentrations which are reported to be effective in several models of liver intoxication.

CClinical studies have been performed to evaluate the properties of SILIPHOS® in subjects with impairment of liver function.

The plasma level profile and the biliary excretion of silybin, the main flavanolignan component of silymarin, were evaluated in rats after single equimolar oral doses (200 mg/kg, expressed as silybin equivalents) of the silybin-phosphatidylcholine complex silipide (laboratory code IdB 1016) and of silymarin. Silybin was assayed by using a specific HPLC method which allowed also the determination of other flavanolignans present in the biological fluids after administration of silymarin (i.e. silydianin, silycristin and isosilybin). After oral silipide, silybin reached peak plasma levels within 2 h, with a Cmax of 9.0 +/- 3.0 micrograms/ml for unconjugated drug and 93.4 +/- 16.7 micrograms/ml for total (free + unconjugated drug). Maximum total biliary concentrations of silybin (2989 +/- 568 micrograms/ml) were observed within 2 h and the biliary recovery after 24 h accounted for about 13% of the administered amount. After administration of silymarin, unconjugated and total plasma silybin levels as well as biliary excretion were several-fold lower than those observed after treatment with silipide. Silybin recovered over a 24 h period after silymarin intake accounted for about 2% of the administered dose. Plasma and bile obtained after administration of silymarin contained also silydianin, silycristin and, to a greater extent, isosilybin. The concentrations of the latter compound in plasma and in bile were higher than those of silybin itself. The relative bioavailability of silipide (calculated in the target organ as the ratio between AUCs of cumulative biliary excretion curves) was 10-fold higher than that of silymarin. (5)

Vailati et al performed an open randomized trial on 65 patients suffering from chronic persistent hepatitis. The protective effects of SILIPHOS® increased with the dose and 240 mg/die p.o. (as silybin) resulted to be the mean therapeutic dose whereas 360 mg/die p.o. (as silybin) was recommended for the treatment of the severe resistant form of hepatitis or during the initial management of the patients.
A phase-II randomized open trial was performed to clinically evaluate the dose-response relationship to IdB 1016 (Siliphos®), in patients with chronic hepatitis of either alcoholic or viral cause. The results suggest that treatment with Siliphos® is of benefit in patients with viral or alcohol-induced hepatitis at the dose of 160 mg per day. But significant benefits were found at the dose of 240 mg per day. Still greater benefits were found with the dosage at 360 mg per day. All of these dosages are measured in silybin, which is 33% of the total in Siliphos®, with phosphatidylcholine making up the balance.
Therefore, you must multiply by three to get the actual corresponding dosage of Siliphos®.
The lowest dose had some beneficial effect, but this study collected sufficient clinical and statistical evidence to indicate as minimum recommended dose the 240 mg per day (measured as silybin). Since there are no evidences of greater risks of adverse events with the 360 mg per day does, whereas there are indications this may provide greater effects on more parameters than the 240 mg dose, the use of the highest dose may be considered in patients in need of either a faster onset or of a greater extent in the pharmacodynamic action of Siliphos®. (6)


This study was conducted as a follow up to a study that confirmed excellent tolerablility at dosages up to 360 mg (as silybin equivalents) three times a day for three weeks. It was part of a comprehensive program of clinical investigations to evaluate the effect of the compound in patients with a variety of liver disorders.
This report is based on the preliminary data for 232 patients with liver disorders (including alcoholic and viral hepatitis) treated with IdB 1016 (Siliphos®) capsules, 120 mg, two or three times a day for periods up to 120 days. Control subjects were also studied. 49 were treated with the commercially available extract (standardized to 70% silymarin). This standardized extract is known as Legalon in Europe and Thisilyn in the United States. 117 untreated or placebo treated were also studied. Evaluation was based mostly on biochemical markers.
The findings of the study confirm the effectiveness of silybin in restoring hepatic function in conditions associated with toxic or infectious liver damage. IdB 1016 (Siliphos®) provides a chemically modified, well defined, more bioavailable formulation which exhibits greater clinical efficacy compared with the conventional standardized milk thistle extract (Legalon/Thisilyn). (7)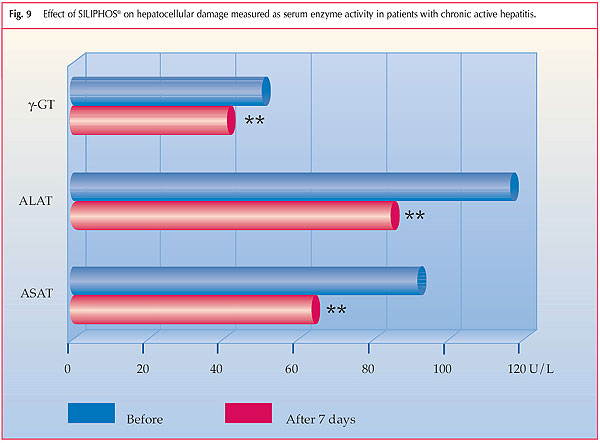 Fig. 1

In a short-term pilot study performed on 20 patients with chronic active hepatitis, the biochemical parameters related to hepatocellular damage and necrosis were significantly reduced after 7 days of treatment with 240 mg/die p.o. (as silybin). (Fig. 1)
In order to assess the liver protective activity and the antioxidant properties of a new silybin complex (IdB1016),  a short-term pilot study has been carried out on 20 patients with chronic active hepatitis (CAH), randomly assigned to 240 mg of silybin b.i.d. (10 patients, 4 m/6 f, mean age: 50 years) or placebo (10 patients, 2 m/8 f, mean age: 55 years). Blood samples were collected before and after 7 days of treatment for liver function tests (LFTs), malonaldehyde (MDA) as an index of lipid peroxidation, and copper (Cu) and zinc (Zn), two trace elements involved in protecting cells against free radical-mediated lipid peroxidation. In the treated group, there was a statistically significant reduction of mean (+/- SEM) serum concentrations of aspartate aminotransferase (AST) from 88.0 (+/- 13.3) to 65.9 (+/- 7.5) u/l, (p < 0.01), of alanine aminotransferase (ALT) from 115.9 (+/- 12.9) to 82.5 (+/- 10.6) u/l (p < 0.01), of gamma-glutamyltranspeptidase (gamma-GT) from 51.4 (+/- 9.3) to 41.3 (+/- 4.2) u/l (p < 0.02) and of total bilirubin (TB) from 0.76 (+/- 0.08) to 0.53 (+/- 0.04) mg/dl (p < 0.05). Alkaline phosphatase (AP) fell slightly from 143.4 (+/- 6.4) to 137.5 (+/- 7.8) u/l. There were no significant changes in MDA, Cu or Zn serum concentrations. These results show that Siliphos® may improve LFTs related to hepatocellular necrosis and/or increases membrane permeability in patients affected by CAH. (8)

Eight patients (two men and six women), with viral chronic active hepatitis were treated with Siliphos® for two months. After treatment, serum malondialdehyde levels decreased by 36% (which indicates significantly less liver damage) and the quantitative liver function evaluation increased by 15% (which is quite dramatic). A statistically significant reduction of transaminases was also seen. These results indicate Siliphos® is effective in improving the biochemical and quantitative indices of hepatic function in patients with chronic active hepatitis. (9)

The activity of silipide Siliphos®, a silybin-phosphatidylcholine complex (IdB 1016), was tested in different models of liver damage in rodents. After oral administration, silipide exhibited a significant and dose-related protective effect against the hepatotoxicity induced by CCl4, praseodymium, ethanol and galactosamine. The ED50 values for inhibition of the rise in ASAT and ALAT levels caused by CCl4 and praseodymium and for antagonism of the increase in liver triglycerides caused by ethanol ranged from 93 to 156 mg/kg (as silybin). At a dose of 400 mg/kg (as silybin), silipide was also active in protecting against paracetamol-induced hepatotoxicity. Silybin and phosphatidylcholine at doses equivalent to those contained in the active doses of silipide failed to show any significant protective activity in these models. The liver protective effect of silipide is probably related to its antioxidant activities and to a stimulating effect on the hepatic synthesis of RNA and proteins. (10)

Silybin is the main active component of silymarin, a standardized extract from the seeds of Silybum marianum Gaertn. (Siliphos®) is a complex between silybin and soybean phosphatidylcholine, which exerts protective effects against hepatic lesions induced by toxic agents such as alcohol and phalloidin. The data obtained in cirrhotic patients after multiple doses of Siliphos® did not show significant differences from those reported after a single dose. They clearly show that the drug does not accumulate in cirrhotic patients. Furthermore, the results indicate no significant difference from healthy control subjects. It is therefore posited that this substance can be safely employed in long-term treatment of chronic liver patients. (11)

SSiliphos® is a complex of silybin (the main active component of silymarin) and phosphatidylcholine, which in animal models shows greater oral bioavailability and therefore greater pharmacological activity compared with pure silybin and silymarin. In order to assess its pharmacokinetic profile in man, plasma silybin levels were determined after administration of single oral doses of Siliphos® and silymarin (equivalent to 360 mg silybin) to 9 healthy volunteers. Although absorption was rapid with both preparations, the bioavailability of Siliphos® was much greater than that of silymarin, as indicated by higher plasma silybin levels at all sampling times after intake of the complex. Regardless of the preparation used, the terminal half-life was relatively short (generally less than 4 h).
In a subsequent study, 9 healthy volunteers received Siliphos® (120 mg b.i.d., expressed as silybin equivalents) for 8 consecutive days. The plasma silybin level profiles and kinetic parameters on day 1 were similar to those determined on day 8. Most of the silybin present in the systemic circulation was in conjugated form.  Less than 3% of the administered dose was accounted for by urinary recovery of free plus conjugated silybin, a significant proportion of the dose probably being excreted in the bile. It is concluded that complexation with phosphatidylcholine in Siliphos® greatly increases the oral bioavailability of silybin, probably by facilitating its passage across the gastrointestinal mucosa. (12)

The results of the study conducted in Italy, had indicated that Siliphos® effectively scavenges hydroxhethyl radicals. However, this effect is lost when the same amount of pure silybin is administered instead. The ability of Siliphos® to scavenge ethanol-derived radicals along with its antioxidant activity suggests that this drug might be potentially useful in counteracting free radical-mediated injuries involved in the development of liver damage caused by alcohol abuse. (13)

The biliary excretion of silybin, the main active component of silymarin, was evaluated by using a specific HPLC method in 9 cholecystectomy patients with T-tube drainage following single oral doses of silipide (CAS 134499-06-2), a lipophilic silybin-phosphatidylcholine complex Siliphos® (IdB 1016), and of silymarin (120 mg, expressed as silybin equivalents). After intake of silipide, the concentration of silybin in bile reached a peak within 4 h and declined thereafter with a mean time of about 10 h. After administration of silymarin, biliary silybin concentrations were several-fold lower than those observed after intake of silipide. The bile collected after silymarin intake also contained considerable amounts of isosilybin (a silybin isomer) and very low levels of silydianin and silycristin. The amount of silybin recovered in bile in free and conjugated form within 48 h accounted for 11% of the dose after silipide and for 3% of the dose after silymarin. Plasma silybin concentrations, determined in 3 subjects, were several-fold lower than those in bile after intake of silipide and mostly undetectable after intake of silymarin. These data indicate that the bioavailability of silybin is much greater after administration of silipide than after administration of silymarin. This results in increased delivery of the compound to the liver, which represents the target organ for pharmacological action. (14)

A total of 18 cases of Amanita phalloides poisoning was treated by combined chemotherapy during 1980 and 1981. After attempted primary elimination of the toxin all patients received silybin as basic therapy mainly by infusion and, in two instances, silymarin orally. In order to investigate the effect of silybin therapy a retrospective study of the followed-up case records was made. The cases were arbitrarily classified into three groups of severity (light, medium and severe) according to clinical and laboratory findings. A close relationship was found between the severity of the intoxication and the time elapsed before commencement of silybin therapy. The time interval between mushroom intake and the commencement of the silybin administration averaged 71.5 hours in the "severe" group compared with 46 and 33.8 hours, respectively, in the "medium" and "light" groups. The mean silybin dosage was 33 mg/kg body weight/day; the mean duration of silybin therapy was 81.6 hours. Except for one fatality in a particularly high dosage suicidal intoxication, all patients survived.
Administration of silybin within about 48 hours after mushroom intake seems to be an effective measure to prevent severe liver damage in Amanita phalloides poisoning. (15)
1. Schiff L., Schiff E.R., "Disease of the liver", V ed., J. B. Lippincott Co., Philadelphia, 1982.

2. Morazzoni P., Bombardelli E., Silybum marianum, Fitoterapia 50, 1 (1995)

3. Hahn G., Mayer A., Osterr. Apoth. 35, 849 (1981).

4. Morazzoni P., Magistretti M.J., Giachetti C., Zanolo G., Comparative bioavailability of Silipide, a new flavanolignan complex, in rats. Eur. J. Drug Metabol. Pharmacokinet. 1992 Jan-Mar;17(1):39-44.

5. Morazzoni P., Montalbetti A., Malandrino S., Pifferi G., Comparative pharmacokinetics of silipide and silymarin in rats. Eur. J. Drug Metabol. Pharmacokinet. 18, 289 (1993).

6. Vailati A., Aristia L., Sozzè E., Milani., Inglese V., Galenda P., Bossolo P.A., Ascari E., Lampertico M., Comis S., Marena G., Randomized open study of the dose-effect relationship of a short course of IdB 1016 (Siliphos®) in patients with viral or alcoholic hepatitis. Fitoterapia 64, 219 (1993).

7. Marena C., Lampertico M., Preliminary Clinical Development of Silipide (Siliphos®), A New Complex of Silybin, in Toxic Liver Disorders. Planta Med. 57, suppl., A124 (1991).

8. Buzzelli G., Moscarella S., Giusti A., Duchini A., Marena C., Lampertico M., A pilot study on the liver protective effect of silybin-phosphatidylcholine complex (IdB1016) in chronic active hepatitis.  Int. J. Clin. Pharmacol. Ther. Toxicol. 31, 456 (1993).

9. Moscarella S., Giusti A., Marra F., Marena C., Lampertico M., Relli P., Gentilini P., Buzzelli G., Therapeutic and Antilipoperoxidant Effects of Silibyn-Phosphatidylcholine Complex (Siliphos®) in Chronic Liver Disease. Curr. Ther.Res. 53, 98 (1993).

10. Conti M., Malandrino S., Magistretti M.J., Protective activity of silipide on liver damage in rodents. Jpn J. Pharmacol. 1992 Dec;60(4):315-21.

11. Orlando R, Fragasso A, Lampertico M, Marena C. Silybin kinetics in patients with liver cirrhosis: a comparative study of a silybin-phosphatidylcholine complex and silymarin. Metab Sci Res. 1990; 18:861–863. Med. Sci. Res. 19, 827 (1991).

12. Barzaghi N, Crema F, Gatti G, Pifferi G, Perucca E. Pharmacokinetic studies on IdB 1016 (Siliphos®), a silybin- phosphatidylcholine complex, in healthy human subjects. Eur J Drug Metab Pharmacokinet 1990 Oct-Dec;15(4):333-8

13. Comoglio, A. Tomasi, S. Malandrino, G. Poli and E. Albano. Scavenging Effect of Silipide (Siliphos®), a new Silybin-phospholipid Complex, on Ethanol-Derived Free Radicals. Biochemical Pharmacology, Vol. 50 No. 8, pp. 1313-1316, 1995

14. Schandalik R, Gatti G, Perucca E. Pharmacokinetics of silybin in bile following administration of silipide and silymarin in cholecystectomy patients. Arzneimittelforschung. 1992 Jul;42(7):964-8.

15. Hruby K, Csomos G, Fuhrmann M, Thaler H. Chemotherapy of Amanita phalloides poisoning with intravenous silibinin. Hum Toxicol. 1983 Apr;2(2):183-95.