VAG Forte™ contains Black cohosh (Cimicifuga racemosa) standardized root extract and other herbal ingredients that provide synergetic effect to support women's health.

The product has been manufactured using high quality pure herbs and the technology that ensures all their beneficial properties intact, in strict compliance with GMP and TÜV regulations.
VAG Forte™ is an effective formula created by Santegra® to support women's health. Natural herbal ingredients in VAG Forte™ make a positive impact on women's hormonal balance; help with the inflammations of the female reproductive organs, normalize the menstrual cycle, help relieve menopausal symptoms, and have a toning effect on the body.

The main active ingredient in VAG Forte™ is Black cohosh (Cimicifuga racemosa) standardized root extract with 2.5% of triterpene glycosides (as 27-deoxyactein). Black cohosh root extract is beneficial for female reproductive system. Black cohosh has mild sedative, relaxing, spasmolytic and anti-inflammatory action, it is used for premenstrual discomfort or dysfunction, and for menopausal symptoms, such as hot flashes, nervousness, irritability, sleep disturbances. Black cohosh root extract demonstrates an estrogen like effect but has no disadvantages of hormonal drug.

Chickweed (Stellaria media L.) contains significant levels of vitamins A, B and C, and was once used in the prevention of scurvy. It is also rich in minerals, contains saponins, as well as flavonoids. It has anti-inflammatory and soothing properties, has been used in folk medicine as a pain reliever.

Marshmallow root (Althaea officinalis L.) contains mucous substances (polysaccharides) necessary for softening and protection of irritated and damaged mucus membranes. Pectin is a part of Marshmallow root that has a positive effect on intestinal microflora. Marshmallow has anti-inflammatory properties and stimulates the immune system.

Mullein leaf (Verbascum thapsus (LINN.)) contains saponins and tannins. Provide astringent and calming action on irritated mucous membranes.
Slippery elm (Ulmus rubra) bark is used as a mild analgesic and anti-inflammatory remedy.
Yellow dock (Rumex crispus L.) root is known for the laxative action. This herb also has diuretic properties. Both its laxative and diuretic properties make this herb a natural cleanser.  It is a traditional remedy for menstrual pain and heavy bleeding and has also been known to be helpful for unbalanced menstrual cycles.

This natural herbal formula helps fight different women's health issues.

VAG™ Forte will help you feel healthy and full of energy again!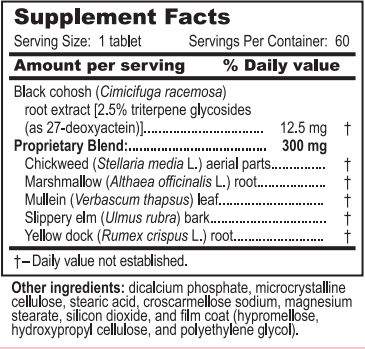 Take 1 tablet with a large glass of water twice a day as a dietary supplement.
Contraindication
Individual intolerance, pregnancy. If you are taking any medication, consult your doctor prior to taking this product.
The main active ingredient of VAG Forte™ is Black cohosh (Cimicifuga racemosa) standardized root extract with 2.5% of triterpene glycosides (as 27-deoxyactein).

Black cohosh is a perennial herb, a member of the buttercup family that has a long history of traditional use in North American Indian medicine and has been used widely in Western cultures since the early 1800s. It is generally used for the relief of the symptoms of menopause.

Black cohosh came into general use around 1850 in the U.S., becoming one of the most popular remedies, and was given a prominent place in the Eclectic Dispensary published in 1852. It was used specifically for rheumatoid muscular pains, menstrual pain, neuralgic pain, headache, and inflammation. (1) First scientific research of Black cohosh's properties was done in the beginning of the twentieth century. Using methods existing at that time, scientists discovered the following chemical ingredients in the root of Black cohosh: phytosterol, a salicylic acid, sugar, tannins and fatty acids. In the research conducted in 1944, estrogen-like properties of black cohosh have been detected for the first time in the experiment on mice.

Glycosides, such as actein and 27-deoxyactein, – the active components with positive influence on female reproductive system - have been identified in 50 and 60th of the last century. It is accepted, that black cohosh's biological activity depends not on one substance, but on synergistic effect of several active components of this plant.

Black cohosh contains several ingredients, including triterpene glycosides (actein and 27-deoxyactein) and isoflavones (formononetin). Other constituents include aromatic acids, tannins, resins, fatty acids, starches, and sugars. As a woman approaches menopause, the signals between the ovaries and pituitary gland diminish, slowing down estrogen production and increasing luteinizing hormone (LH) secretions. Hot flashes can result from these hormonal changes.

In the mid 50th of the last century black cohosh became popular menopause relief remedy in Germany, owing to numerous scientific certificates and clinical researches.  The German scientists anxiously searched for an alternative to hormone-replacement therapy, which by then has shown serious side-effects in many patients, have declared that the black cohosh extract is effective for reduction of menopause symptoms. In Germany by 1962 the results of at least 14 clinical researches with 1500 participants were published (though in modern understanding, it is impossible to consider these researches controllable). A review of eight clinical trials found black cohosh to be both safe and effective for symptomatic relief of menopausal hot flashes, and other symptoms which improved included night sweats, insomnia, nervousness, and irritability.

Clinical researches have shown, that black cohosh possesses estrogen-like properties. The reduction in an estrogen level during menopause causes changes in a female body and such unpleasant symptoms as hot flashes, mood changes and sleeplessness. Hormone-replacement therapy decreases these symptoms, but increases risk of cancer and cardiovascular diseases. Black cohosh application does not have such side effects.

The American college of Obstetrics and Gynecology recommends to use Black cohosh extract (no more than 6 months at a time) to decrease the menopause symptoms, especially such, as sleep disorders, hot flashes, mood changes. (2)

Owing to the efficiency, Black cohosh takes a special place among the herbs beneficial for female health.
In 8 clinical trials the effect of black cohosh on reduction of menopause symptoms was analyzed in 2000 women. The clinical trials have demonstrated the effect similar to estrogen replacement therapy for treatment of neurovegetative menopause symptoms.
A number of clinical studies have been conducted on black cohosh extract, which is standardized to 1 mg triterpene glycosides per tablet. Overall, the studies show a clear reduction in menopausal symptoms (hot flashes, night sweats, headaches) and psychological parameters (depression, sleep disturbances, irritability) following 4-8 weeks of treatment. In some cases, subjects have been able to discontinue hormone replacement therapy while taking the black cohosh extract. (3)
A new study provides preliminary evidence that black cohosh used to help women cope with menopausal symptoms may reduce breast cancer risk.
However, much more research is needed before black cohosh can be recommended to prevent the disease, Dr. Timothy R. Rebbeck of the University of Pennsylvania School of Medicine in Philadelphia and colleagues caution. To examine how the use of these herbs might relate to breast cancer risk, the researchers compared 949 women with breast cancer to 1,524 healthy controls. Women who reported taking black cohosh were at 61 percent lower risk of breast cancer, the researchers found. Previous studies have shown that black cohosh can block cell growth, Rebbeck and colleagues note. The herb is also an antioxidant, and has been shown to have anti-estrogen effects as well. (4)

A randomized, double-blind, placebo-controlled trial in 80 menopausal women compared 8 mg/day of a black cohosh extract with placebo or conjugated estrogens (0.625 mg/day). At 12 weeks, scores on the Kupperman index and the Hamilton anxiety scale were significantly lower in the treated groups than in the placebo group; the scores of participants using black cohosh were somewhat better than the scores of those receiving the estrogen treatment. This is one of the few studies in which hot flashes were scored separately from other symptoms. Daily hot flashes decreased from 4.9 to 0.7 in the black cohosh group, 5.2 to 3.2 in the estrogen group, and 5.1 to 3.1 in the placebo group. (5)
Another clinical trial was studying the effect of black cohosh on bone and fat tissues. Therefore, osteoprotective effects of the black cohosh extract and an influence on fat tissue were studied in ovariectomized rats.  Bone mineral density (BMD) of the tibia of ovariectomized rats was determined by computer-assisted tomography (CT). CT scans of fat depots were perimetrically quantified. Bone turnover and lipocyte activity were also determined. Treatment of the ovariectomized rats over a period of 3 months with the black cohosh extract showed osteoprotective effects; both significantly reduced the loss of BMD in tibia. CONCLUSION: The black cohosh extract exerted estrogenic effects in the bone (particularly in osteoblasts) and in fat tissue, but not in the uterus of ovariectomized rats. The extract appears to contain rat organ-specific selective estrogen receptor modulators (SERMs), and if these findings can be approved in human it may be an alternative to HRT. (6)
The anti-osteoporotic effect has yet to be discussed in the literature in terms of estrogen receptor-binding activity of black cohosh, although mention was made of a positive influence on osteoporotic states (Murray, 1997).

A steroidal triterpene derivative called actein, was found to lower blood pressure in rabbits and cats but not in dogs (Newall et al., 1996; Duke, 1985). It produced no hypotensive effects in either normal or hypertensive human beings, although some peripheral vasodilation was observed.
1. Foster S. Herbs for Your Health. Loveland, CO: Interweave Press, 1996, 12–3.

2. ACOG Practice Bulletin. Clinical Management Guidelines for Obstetrician-Gynecologists. Use of botanicals for management of menopausal symptoms. Obstet Gynecol 2001;97:suppl 1-11.

3. Lieberman S, A review of the effectiveness of Cimicifuga racemosa (black cohosh) for the symptoms of menopause. J Womens Health. 1998 Jun;7(5):525-9.

4. T.R. Rebbeck, A.B. Troxel, S. Norman, G.R. Bunin, A. DeMichele, M. Baumgarten, M. Berlin, R. Schinnar, B.L. Strom. "A retrospective case-control study of the use of hormone-related supplements and association with breast cancer". International Journal of Cancer, 1 April 2007, Volume 120, Issue 7, Pages 1523-1528.

5. Warnecke, G: Influencing of menopausal complaints with a phytodrug: successful therapy with Cimicifuga monoextract (in German). Medizinische Welt 36: 871-874, 1985.

6. Pharmacology of Cimicifuga racemosa extract BNO 1055 in rats: bone, fat and uterus. Seidlová-Wuttke D, Jarry H, Becker T, Christoffel V, Wuttke W. Maturitas. 2003 Mar 14;44 Suppl 1:S39-50